A seminar is a good opportunity for a company to unite and develop your team. Incentive seminars are management tools that have a particular impact on companies. They help to bring company employees together outside the professional environment for a day or a few days to share a common project. In addition to the knowledge-sharing aspect which can be interesting, these events above all allow employees working in the same company to get to know each other better. Communication and team cohesion are strengthened using unifying activities. The organisation of a seminar is a unique opportunity for any company!
To guide you through these experiences, Secret Barcelona organises a tailor-made stay for you. The concept is simple: together we create the seminar that suits your needs and desires in an ideal location: Barcelona.
Barcelona: the destination for business seminars
Barcelona is the main destination in Spain for business seminars. Nothing coincidental about that. Between the city, the beach and the mountains, the Catalan capital is full of activities and opportunities for companies. From unmissable tourist spots to small secret places, we make sure that your Barcelona seminar will be a memorable one!
The Spanish city offers something different for any company wishing to organise its seminar in Spain. In addition to the exciting nightlife, modern facilities and renowned football club, Barcelona is above all a historic city with an exceptional architectural and cultural heritage. When you come to Barcelona for an incentive trip or a seminar, you can be sure to discover the city in the steps of the famous artists Gaudi, Picasso and Dali. The Barcelona art of living will have no more secrets for you and your team!
Thanks to the wide choice of hotels, organise your business seminars and congresses in exceptional places, from the most picturesque to the most luxurious. These hotels offer you a unique setting and high-quality services with trusted professionals.
Our 3 main reasons to have a seminar in Barcelona
Visit Barcelona and discover all its richness and beauty
Barcelona can be discovered by day and night through a variety of buildings, each one more surprising than the next: Santa Maria del Mar Cathedral, the Palace of Catalan Music, the Sagrada Familia and many others. Group visits are organized to bring you into the heart of these architectural wonders reflecting Barcelona's past.
The city is also known as Gaudi's city. Therefore, you won't miss the works of the famous architect, creator of the Casa Batlló, which illuminate the streets of Barcelona. All in all, Barcelona is a surprising and magical city that seduces everyone who discovers it.
Thanks to the diversity of its landscapes, Barcelona is above all a city where you can enjoy all kinds of activities. Whether by the sea or inland, there are plenty of possibilities for extraordinary group experiences. Everybody will find what they are looking for between catamaran trips, rafting sessions, bike rides through the narrow streets of Barcelona, or even cooking classes on a rooftop with a view to taste tasty Catalan dishes.
Embrace the Catalan way of life during your stay
The atmosphere in Barcelona is vibrant and cosmopolitan with a feeling of a city that never sleeps. With a very diversified population, the city brings together many cultures from all over the world. But above all, the Catalan culture dominates in Barcelona. Tapas, Catalan rumba, Catalan sardana and traditional castellers are just some of the cultural traditions to discover during your stay. When you come to Barcelona, you must also discover the particularities of Catalan gastronomy and live to the rhythm of their annual traditions that enliven the streets. Strolling through the streets of the city, you will be able to discover the Catalan way of life and admire an authentic Barcelona.
A cultural change of scenery just a few hours away
With a Mediterranean climate, Barcelona is a year-round destination. So fill up with positive energy by coming to Barcelona with your team. Treat yourself to a sunny break in Spain for a few days.
Due to its proximity to France, you only need to take a flight of less than 1h30 to come to Barcelona. There is no need to undertake complex administrative procedures to organize your seminar and gather your team. With the services of professionals such as Secret Barcelona, who take care of everything, all you have to do is pack your bags and come to Spain.
Combine professional and personal: enjoy a privileged moment with your colleagues in a holiday setting.
Barcelona is a charming destination with its beautiful beaches and shimmering climate. The city welcomes you for your business seminars in an idyllic setting between idleness and team building.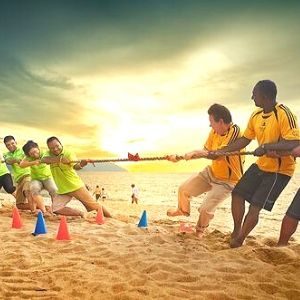 Such a setting helps to strengthen your team cohesion while offering each of your employees a restful stay to fill up with vitamins. After a day's work, lose yourself in the streets of the city to discover every nook and cranny. There' s no doubt that everyone will return again to this attractive Spanish city!
Strengthen your teams and improve your relationships by discovering the seminar activities in Barcelona. Secret Barcelona offers you the opportunity to do exciting team building with your company. To do so, discover our unusual activities in Barcelona that will make your stay in Barcelona a unique event. You can organise your seminar the way you want! Secret Barcelona is at your entire disposal to listen to your requirements and preferences and to offer you a tailor-made stay.
Organize your company seminar in Barcelona with our English speaking incoming agency to discover the city like you've never seen it before!